Most data generated with AHP-OS can be downloaded as csv files for import into a spreadsheet program and further analysis:
From the Hierarchy Input Menu – decision hierarchy and local & global priorities
From the Group Result Menu – Priorities by node and consolidated decision matrix
From the Project Data Menu – Decision matrices from each participant
For each download you can select "." or "," as decimal separator. The downloaded csv (text) file is coded in UTF-8 and supports multi-language characters like Chinese, Korean, Japanese and of course a variety of Western languages.
How to import into excel?
Open Excel, click on "File" -> "New" to have a blank worksheet. Click on "Data". On the left top you will find the "Get External Data" box.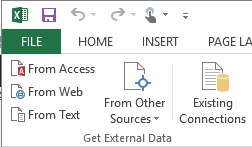 Click on From Text to select the downloaded cvs file for import. The Text Import Wizzard will open.
Now it is important to select 65001 : Unicode (UTF-8) under File origin.
Then, depending on your decimal separator, select Comma or Semicolon as Delimiters:
When the import is done, your text characters should be displayed correctly.  Save the file "Save as" as Excel workbook (*.xlsx).