In this latest update of my AHP excel template, input sheets were modified to show the proposed ideal judgments for the three most inconsistent inputs, resulting in a lower consistency ratio CR.
Example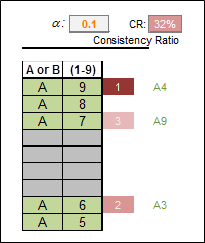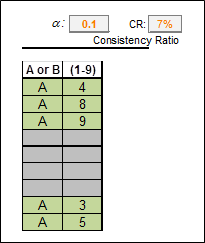 On the left side judgment A9, A7 and A6 are highlighted as inconsistent, CR is 32%. The consistent judgment is shown as A4, A9 and A3. After correction with the proposed intensities (right side) the consistency ratio decreases to 7% below the required threshold of 10%.
You might download the latest version from my AHP template download page.