The latest update of AHP-OS comprises of some minor changes to make the program flow easier to understand for participants w/o background in AHP.
The group session input screen does no longer show the headline to login or register, as for participants there is no need to be registered.
The text introduction was shortened to two and a half line of text.
Menu buttons intended to be clicked are highlighted.
Group session input screen

AHP Hierarchy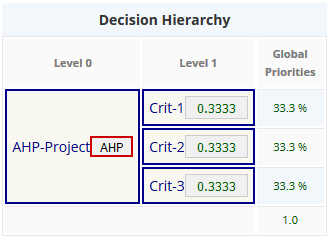 Pairwise comparisons
When inconsistent:
When ok:

After completion of all pairwise comparisons:

Please let me know, in case you find any bugs or have suggestions to improve.